Discover more from The Zaleski Minute
New writing from journalist Andrew Zaleski — in one minute or less.
Kill All Lanternflies
Listen up, people. The October Zaleski Minute is as much a PSA as anything else. (Thanks for being here, and this one will take you longer than 60 seconds, so complain to management.)
What I Was Writing:
My first feature for Bloomberg Businessweek is a tale about the arrestingly creepy spotted lanternfly. What's a spotted lanternfly? Have a look: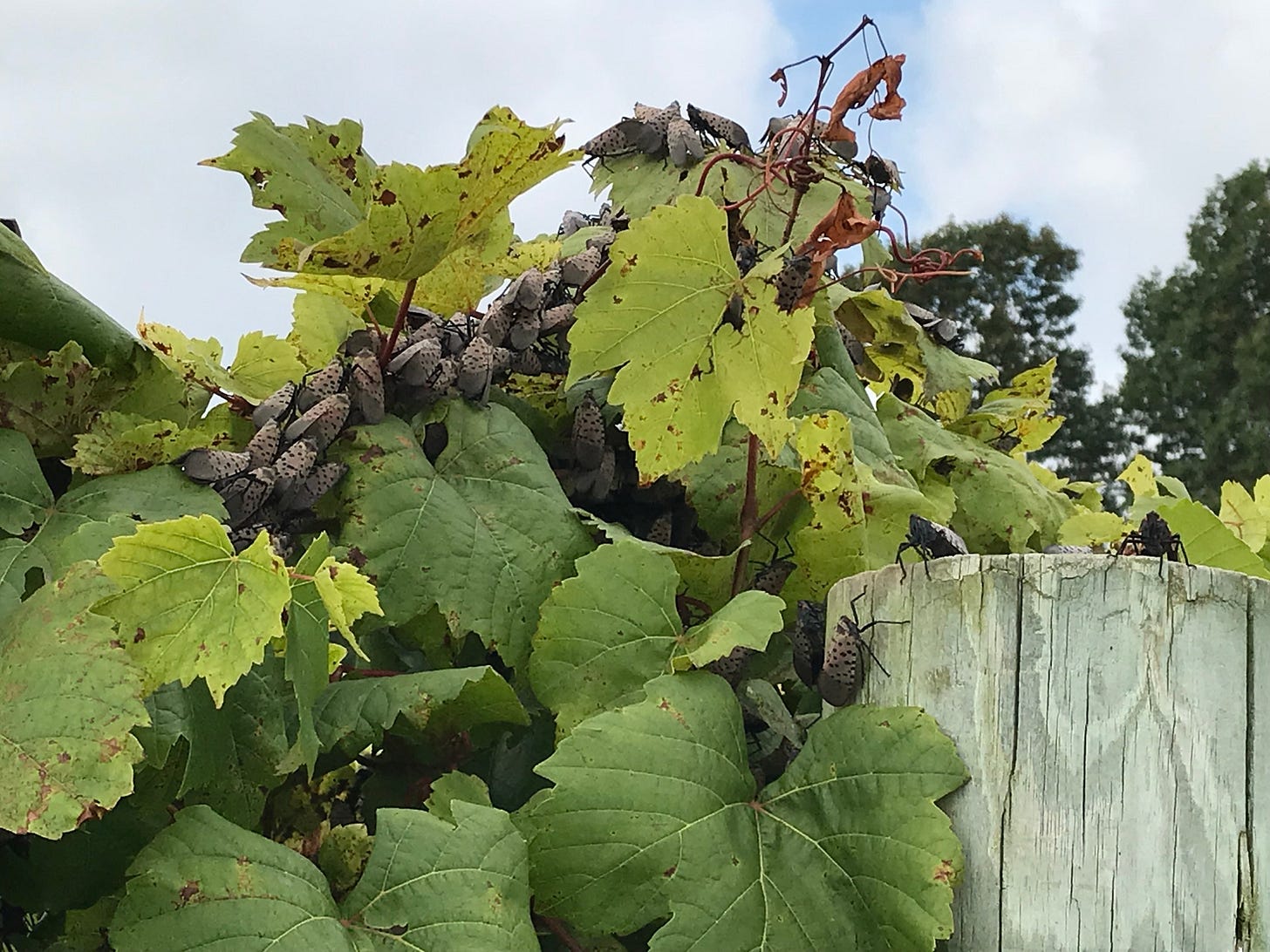 That's a grape vine at Beekman Orchards, a fourth-generation farm run by Calvin Beekman in Berks County, Pennsylvania. In the past two years alone, Beekman has lost $390,000 to these bugs, which feast on grape vines, fruit trees, and timber trees and then disgorge a glutinous substance called honeydew. It's not shit, technically, since lanternflies don't urinate or defecate. But it is sticky — it's undigested tree sap, basically — and they spray it away from their bodies. When it lands on plants and trees, it disrupts photosynthesis and leads to plant death. Oh, and: It's also capable of covering everything else, including your decks, patios, dogs, and hair.
So what's the deal with these bugs?
It's an invasive species, native to southeast Asia, that popped up in the U.S. in Pennsylvania in 2014.

Since then, these bugs have spread to Virginia, New Jersey, and New York. In Pennsylvania, 13 counties, including Philadelphia, are under a quarantine. (More about that in the Bloomberg Businessweek story.) As of this summer, three counties in New Jersey were placed under quarantine. Maryland and Delaware are bracing for their own infestations.

Lanternflies are poised to do more damage to farmers than even the brown marmorated stinkbug. "It has this really broad feeding behavior, and that's unusual for an insect. And it threatens so many of our high-value commodities," says Emelie Swackhamer, a horticulturalist with Penn State.

The bugs pose a huge danger to the hardwood industry of Pennsylvania, a $19 billion business that employs 66,000 people. (The commonwealth, in fact, is the number one exporter of hardwood in the U.S.)

Entomologists at Penn State believe the lanternfly "could be the most destructive species in 150 years."
As Calvin Beekman says in the story: "The bugs aren't good. They're moving. You're going to see the spread of this is farther than anyone projected."
I share all of this because these bugs are a serious problem, and have already left some farmers in desperate straits.
What can we do? A couple things:
If you see these bugs, immediately call your state's department of agriculture. If you can, note how many are there and the time of day. And then stomp on them. Lanternflies are gross, but they don't sting or bite, and they're remarkably fragile. Just kill the damn things.

From now through the first week of December, female lanternflies will lay eggs. Sometimes they resemble splotches of mud from far away. (Below, find a photo of what the egg masses look like.) If you spot an egg mass, carefully scrape it into a plastic bag, and then fill the bag with water and dish soap or hand sanitizer. That'll kill the bugs inside.
On a Different Note:
For those of you with Spotify, here's a tiny window into my world: a playlist of songs I usually listen to when I'm trying to type thousands of words, but the only thing moving is a blinking cursor in a blank Microsoft Word document.