Discover more from The Zaleski Minute
New writing from journalist Andrew Zaleski — in one minute or less.
We Can Rebuild Him
So. It's been a summer. (Or nearly so.) Ready for your wild ride?
For the last couple of months, I've been dealing with a cataract in my right eye. You know what they say: 31 is the new 60. I finally had surgery on it this week, courtesy of the wonderful folks at The Johns Hopkins Wilmer Eye Institute. Behold!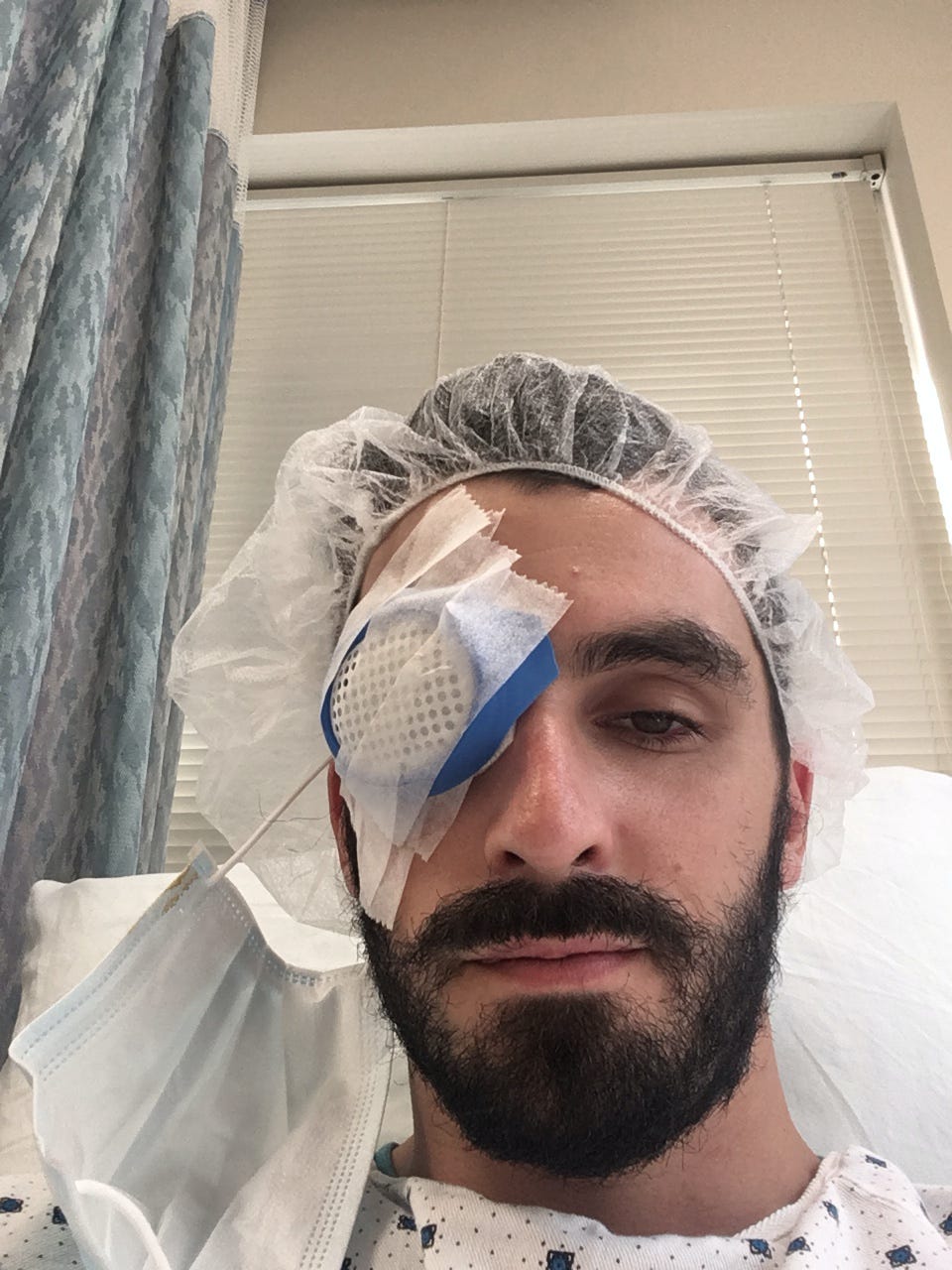 (I assure you, a mask was on my face at every other moment as this was taking place.)
Yesterday was my first of two post-operative check-ups. According to the Hopkins doc who took a look and assessed my vision, my right eye is now restored to 20/25. What's forthcoming? Well, soon, another surgery to repair the cataract in my left eye. That might not happen until next year, at which point I will be able to say: 32 is the new 60.
For now, please enjoy the August edition of The Zaleski Minute, where the rules remain unchanged: If this takes you longer than 60 seconds, complain to management.
What I Was Writing:
For Elemental: As the world awaits a vaccine for the novel coronavirus, Josh Morrison and a band of 30,000 volunteers are hoping to speed up its development. How? Through a human challenge trial, whereby a select group of vaccinated people will be willingly infected with Covid-19. Oxford University in England is even planning to carry one out. Here is your 5,000 words on the science, the ethics, and the potential pitfalls of such a grand experiment.

For GQ: We are back to our regularly scheduled columns on health and nutrition. This month's is on food intolerances and food allergies, how to tell the difference between the two, and how to figure out if an aversion to some foods is a workable intolerance.
Remember Those Lanternflies?
In October 2018, I wrote a feature for Bloomberg Businessweek about the invasive spotted lanternfly, which at the time was mainly confined to several counties on the outskirts of Philadelphia. They have since descended upon the city — and evidently love a certain La Colombe coffeeshop.
A Tip Of The Hat:
To Mr. John McIntyre. For a quarter-century, McI taught copyediting at Loyola University Maryland — including all those years it was still Loyola College in Maryland, but I digress. The man is finally hanging up his professor's hat, although not abandoning his post as Baltimore Sun copy chief or his column on grammar and language.
I took John's class my sophomore year. This was 2008, with a housing crisis and market fallout looming, and just before I realized I was setting myself up for a career that might evaporate in two decades. Good times! I also served as John's intern on the Sun's copy desk my last semester senior year, where, from 4 p.m. until past midnight, I was reasonably assured to be handed some of the most insufferable copy only to watch John and his fellow line editors glance over and smirk at my misfortune.
But I will say: There were precious final moments of every shift, just after midnight when the next day's paper had been put to bed, that we would retire to his office and talk about the day's work. I've never learned more about the craft and care of journalism than in those few minutes afterward. Some parting words to John, which I learned from another John (in this case, my father): May fortune favor the foolish.