Discover more from The Zaleski Minute
New writing from journalist Andrew Zaleski — in one minute or less.
Salt Of The Earth
Greetings, friends. It has been two months, but I promise that some of the articles I have coming out over the next two months will justify my absence. Here it is, September's Zaleski Minute.
Normally I'd hit you with the usual asseveration: If it takes you longer than 60 seconds to get through this, complain to management. This time, however, it's going to take you longer than 60 seconds. So … send your best recipes along with your complaints; I need new ideas for dinners to cook.
What I Was Writing:
For Elemental: Are you familiar with the "slow morning" movement? Gripped by the luminal abyss of their retina displays, a concerned folks are deliberately waking up earlier and carving out several hours of time to do nothing technologically abetted whatsoever. Drinking coffee. Exercising. Reading a book. No phones; no computers; no social media; no emails. Perhaps this is the way to better manage our frenetic, 24/7 digital alerts.

For Bloomberg Businessweek: Check it out. This year marks the 150th birthday of the Periodic Table of the Elements, and the entire new issue of Businessweek pays homage to the elements, all 118 of them. For this issue I tackled Na, and wrote about Ben Jacobsen, a salt maker who's the first to produce briny, crisp, flaky sea salt on Oregon's coastline since the days of the Lewis and Clark Expedition.
Your Lanternfly Update:
Remember the spotted lanternfly? My first feature for Bloomberg Businessweek was a tale about the arrestingly creepy spotted lanternfly, an invasive pest from Asia devastating the farms and sawmills of southeastern Pennsylvania. At the time of publishing, October 2018, 13 counties were under quarantine. Now 14 counties are quarantined.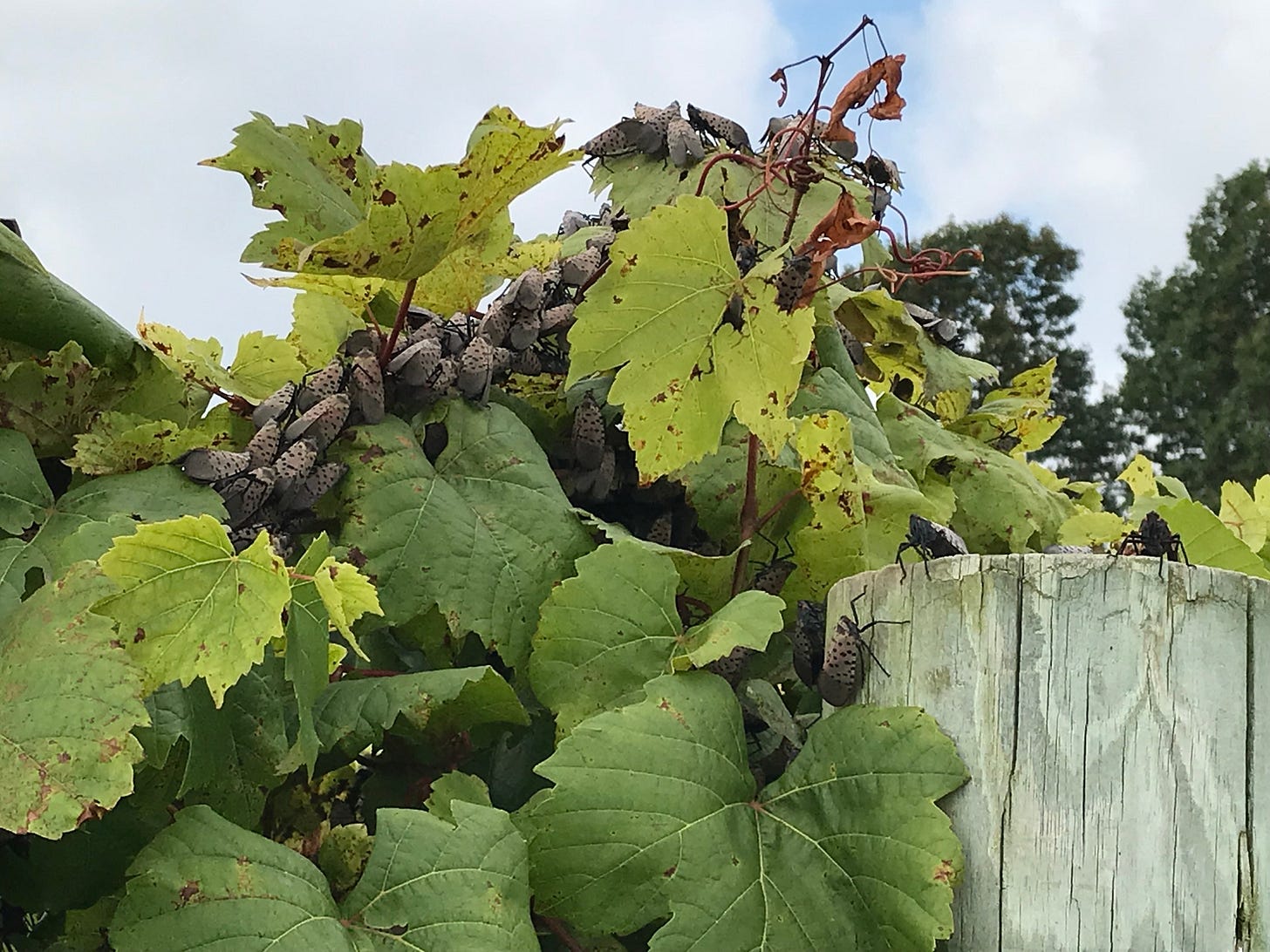 Above is a scene from the vineyards at Beekman Orchards, a fourth-generation farm run by Calvin Beekman in Berks County, Pennsylvania. In the past two years alone, Beekman has lost $390,000 to these bugs, which feast on grape vines, fruit trees, and timber trees. Earlier this summer, Calvin texted me a disastrous update: His vineyard of 40 acres has been wiped out by these bugs.
Penn State scientists are hoping a new biopesticide will halt the spread of these insects. It's crucial to kill these bugs if you see them. Evidently, they have finally made their way into downtown Philadelphia. (See the tweet I'm quoting.) Just step on the things, and do it quickly — they have a tendency to hop around before they take flight.
And Finally:
Please enjoy this Italian man who is very defensive of bolognese sauce.